Steph Shipley, a second year MA Fine Art student at UCLan discusses her current project. Steph is studying on the Projects for Places pathway, which is taught by In Certain Places curators Prof. Charles Quick and Elaine Speight.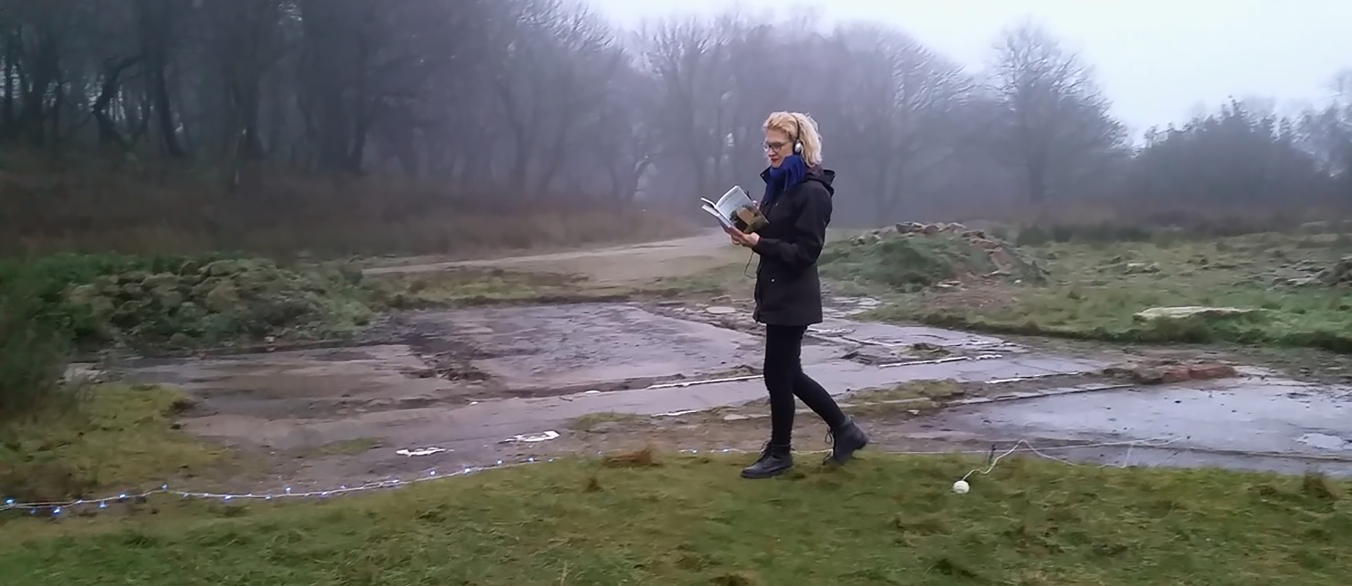 Ruhwinton of the Middle Ages, now Rivington and its Terraced Gardens just below Rivington Pike on the outskirts of Bolton had been beckoning from its rugged, lofty heights as I began my final year MA Fine Art research project. Lord Leverhulme, global industrialist and local philanthropist of Port Sunlight fame, acquired the land in the early 1900s; his country retreat described by local garden historian Elaine Taylor as an 'Edwardian theme park' reflects the eclectic travelogue of influences evident in the landscape's design and structures. It had been his childhood haunt, a place of courting, of ambition, opulence and retreat, of returning, of love and loss, of altruism, and of growing old – substance worthy of note; personal and universal.
I am interested in what remains. What has drawn me there and calls me back and why did I choose the vestiges of the once elegant Ballroom, the mournful Japanese Lake and the overgrown Italian Gardens to investigate? Melancholy weighs heavily within such sites of heterotopia – those places that exist physically within our everyday culture, but are often set aside or transitory with a capacity for imagination or otherness; I tread a cautious path through their offerings, mindful of their capacity to reflect and disturb what surrounds them; mindful of my own fragility in matters of nostalgia.
Mine is a tentative cross-disciplinary approach, the surfaces where these things meet being of significant yield beyond the deep excavation of one. I find an uncertain yo-yoing between the capricious analogue and abundant digital that speaks of past and present, of obsolescence and the contemporary. Photographs, film, projections and site recordings that have evolved through text, voice and ultimately dance are embodied with the place as I have experienced it through the changing seasons. Still and moving images seem to depend on each other reflecting the gravitas of the site and my transient relationship with it; the large scale overlaid screen-prints on provisional drafting film are a 'screen memory' of the hours I have spent there usually at dusk – fugitive, floating, blinking, like the blueprints where I found them in the basement of the local archives office.
I have been treading gently, finding different ways in, feeling my way as the year has turned on the twilight of the Ballroom; its backward gaze on Leverhulme's loss of love and place replaced by a lightness of spring; the Japanese Lake – the balletic ritual of the symbolic crane transformed into tentative etchings and then into dance; a choreographed continuum, a lifting of mood, a dexterity of step and agility of pose.
Treading lightly is a means of negotiating time and space, of navigating loss and of respecting what remains. As Paul Carter (2004) suggests the ground is never given, treading lightly has made me alert to my own time and the fact that Rivington Gardens and Leverhulme's legacy will outlast me by far. Therefore, as I await the full bloom of the Italian Gardens, the first blush of summer heat on the loggias and pergolas, I will continue to tread lightly to enable a place to linger, a longer past, as Siobhan Davies (2018) implies, and one far more than its surface value.
Carter, P. (2004) Material thinking: the theory and practice of creative research. Melbourne, Melbourne University Press
Davies, S. (2018) Future Recollections: The body we are. Available at: http://www.siobhandavies.com/watch-listen/2018/02/21/future-recollections-body-we-are/