March 2018
Writer and artist Lauren Velvick on the informal discussion around spaces for play between Emily Speed and architect Lee Ivett, in the recently Grade II listed 'bubble' classroom at Kennington Primary School.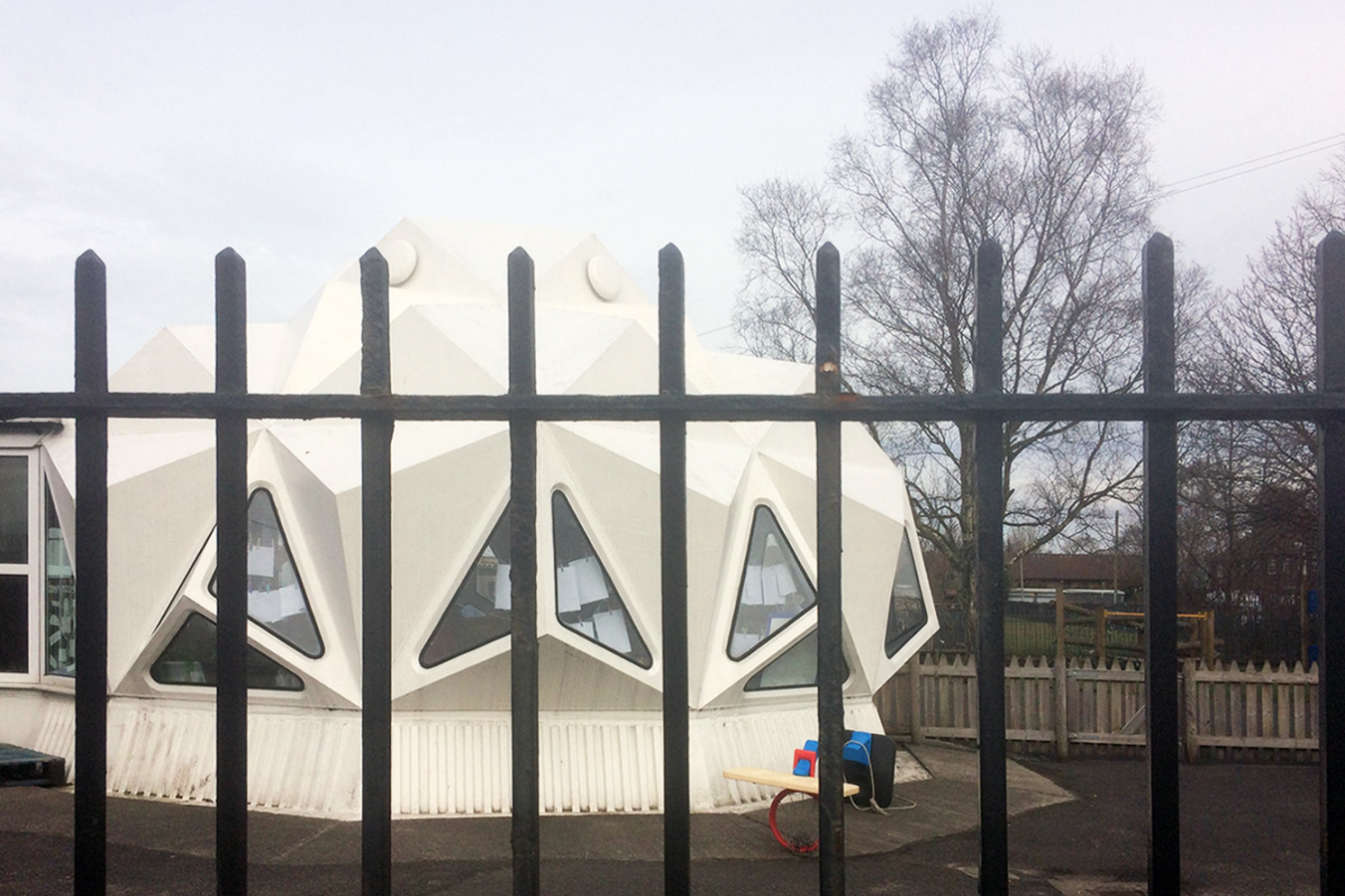 At the start of Emily Speed's 'What do we need in a space for play?' event she outlined why play in particular had become an increasingly important part of her practice. Just as this (Expanded City) project was beginning in 2016 Speed gave birth to her first child, and notes how the trajectory of the Expanded City as a whole has been in line with her personal life. It is interesting to map this observation on to the other artists' projects, which each candidly engage with aspects of the city deal that are relevant to their lives. For Speed this meant growing more and more interested in spaces that are friendly and welcoming for parents and children, questioning whether spaces for play and imagination were going to be provided for in Preston's new city deal developments. This event was structured so that both Speed and her invited speaker Lee Ivett gave a short presentation followed by a conversation between the two, and questions. During Speed's presentation she explained how an earlier commission to design a playground had led to the realisation that children would often choose to play on structures that had not been designed for that purpose. Alongside the Expanded City Speed has recently completed a number of commissions that aim to construct a space for play, one at Bootle Library and one at Bluecoat Gallery, Liverpool. Both libraries and galleries, like housing developments are spaces that, on paper, should be welcoming and usable to parents and children, but the need for specialised commissioned hints otherwise.
As part of her presentation Speed pointed to Roland Barthes' writing on toys and play, referencing something that is also inherent to Ivett's practice; the idea of play as an action in itself, rather than a form of learning, or as practice for something else.
"Faced with this world of faithful and complicated objects, the child can only identify himself as owner, as user, never as creator; he does not invent the world, he uses it: there are, prepared for him, actions without adventure, without wonder, without joy. He is turned into a little stay-at-home householder who does not even have to invent the mainsprings of adult causality; they are supplied to him ready-made: he has only to help himself, he is never allowed to discover anything from start to finish. The merest set of blocks, provided it is not too refined, implies a very different learning of the world: then, the child does not in any way create meaningful objects, it matters little to him whether they have an adult name; the actions he performs are not those of a user but those of a demiurge. He creates forms which walk, which roll, he creates life, not property: objects now act by themselves, they are no longer an inert and complicated material in the palm of his hand."
The above quote is relevant in understanding both Speed and Ivett's approaches to designing for play, but in Speed's case is troubled by her simultaneous interest in architectural models and model villages, stemming from a fascination with the scale of the body in relation to architecture. This is observable in her recent work that has involved designing 'archetypal' structures that relate to, but do not completely reproduce existing buildings and rooms. In line with this for her work with In Certain Places Speed has been investigating the concept of breaking ground and the simultaneously destructive and constructive act of digging via sunken structures like the amphitheatre. Speed also describes her working drawings as 'pits', and has been considering the myriad ways that these could be utilised toward play. These designs have been influenced by workshops whereby children were invited by Speed to image playgrounds in clay, but that were made from the leftover parts of a building site. This raises the question of whether a design for play could ever be as thrilling as a space dangerously repurposed for play, and whether this is something that it makes sense to attempt.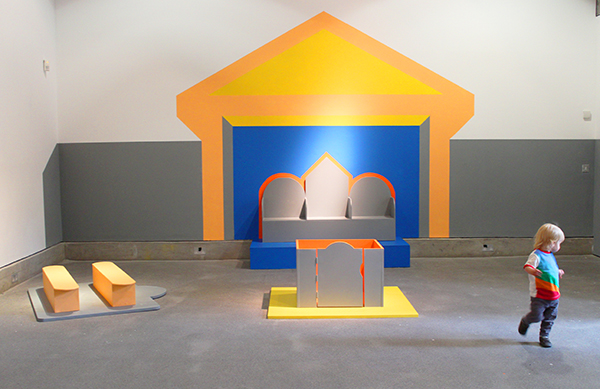 This also relates to Ivett's argument against over designing, and thus limiting the possibilities of how a space or structure can be used. Ivett's work as a designer and architect is often specifically related to deprived and excluded groups of people and places, which adds a socio-economic dimension to his work beyond the theoretical outlined above. In line with this he spoke about the importance of an entitlement to intervene, and how expecting people who have been marginalised to suddenly engage with redevelopment is unrealistic, and often unfairly characterised as laziness. Ivett argues that environments are now often designed around surveillance and fear, with assumptions about how people will behave fuelling safety concerns, arguing that it is the ways we learn to behave that affect safety, rather than our external environment. To illustrate this he pointed to the example of the bare tarmac, chain link fenced courts that can be found on parks and housing estates throughout Britain. They are empty of anything that could be put to nefarious uses, and yet it's not unusual to see small children say high up in the basketball hoops having climbed the fence. In a way this could be said to conform to Ivett's practice of 'underdesigning' so as not to alienate behaviours that aren't anticipated, except that in these cases the few interventions that have been made in the name of safety, or at least to discourage unwanted behaviours, have the opposite effect.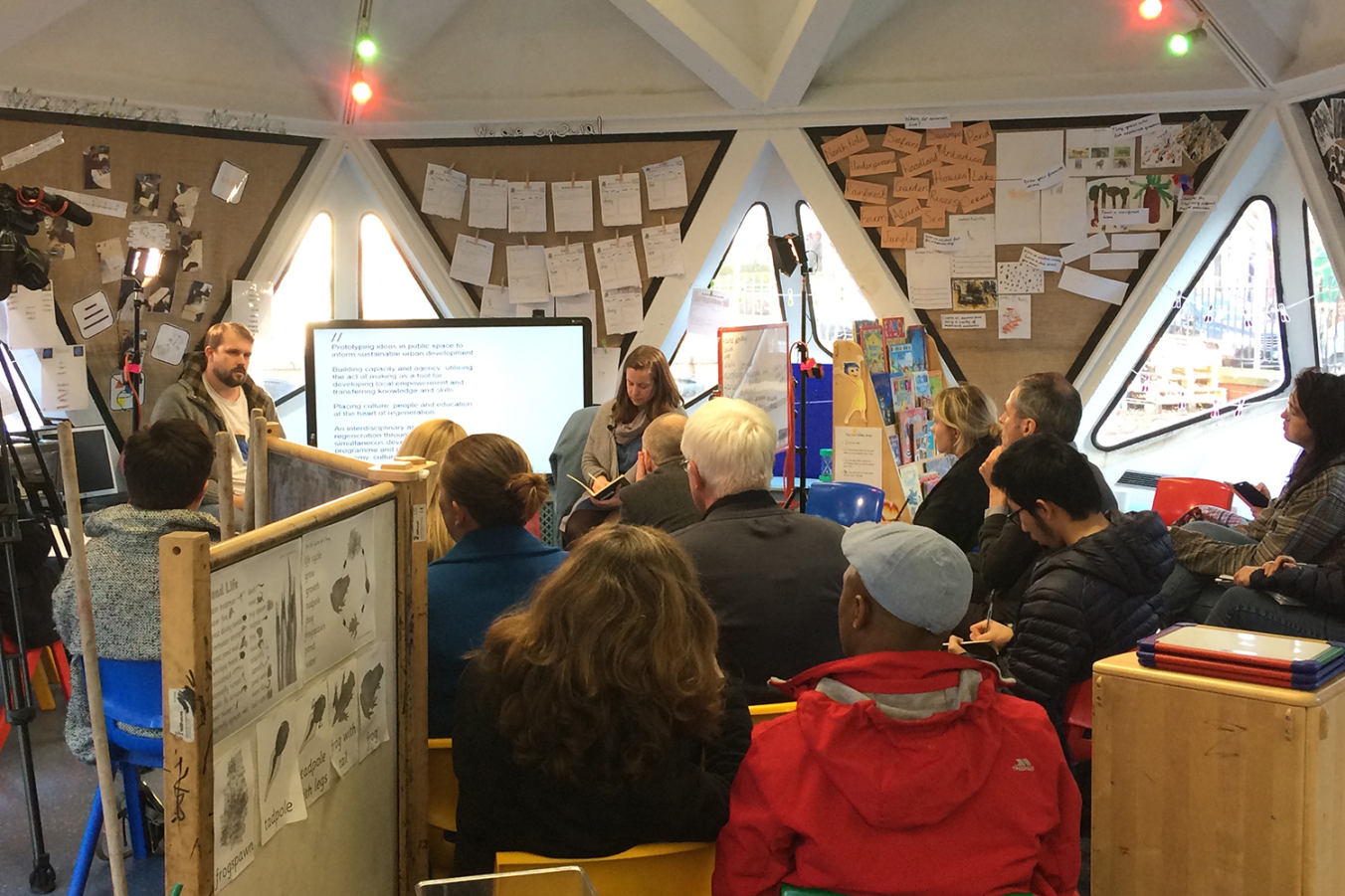 In the discussion that follows the conversation turns to practical considerations, and the place of play within wider debates around regeneration. Ivett points to maintenance as something that is often overlooked when projects such as his organisation's 'Baltic Street Adventure Playground' in Glasgow. The cost of upkeep and the skills necessary to manage a resource are often overlooked, which can lead to projects being deemed failures unfairly, and as mentioned above communities being unfairly maligned as lazy or incapable. There is a need to look at the whole economy of regeneration, and where possible to reject the notion that the best thing to do in every circumstance is to try and save money. This leads onto a discussion of rules and where they are appropriate, as well as the duty of care towards the children who make use of these theoretically informed and underdesigned structures. The figure of the play worker is relevant here, reminding us that designing spaces for play around principles of maximum freedom still requires care, maintenance and observation: it has to be a collective effort that can evolve alongside use and need.