March 2016
Artist Jen Southern describes her visit to The Somme, as part of her research for the Homing project.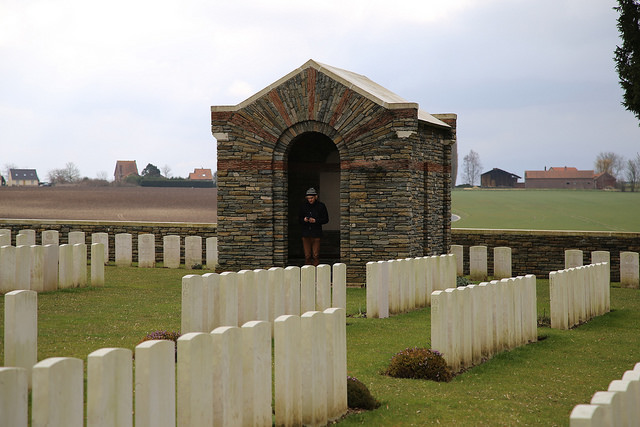 At the beginning of March, Sam Thulin and I went to France to make sound recordings and collect GPS data for our new work Homing. For the last few months we've been reading letters from soldiers in WW1 in the archives at Lancaster Infantry Museum, which will become part of the new work. Some of the letters were sent by Arthur William Boddy, and in a letter to his mother he says that he is sending wildflowers, and hopes that they will not wilt. He asks her to send him a coat and a kit bag, and later in a letter from the trenches he says that kippers have arrived in good condition. We were surprised that people were sending such perishable items by post, and moved by these gestures of care, hope, and trust in the postal system, made at a distance and in the face of a horrific war.
Arthur William Boddy was killed on 1st July 1916 – the first day of the battle of the Somme when regiments from Lancashire had their heaviest losses of the war. His body was never found, but his name appears on the Thiepval memorial to the missing which has over 60,000 names engraved on it. We went to visit this memorial and to many of the nearby cemeteries, and tracked our journey between these places with a GPS device.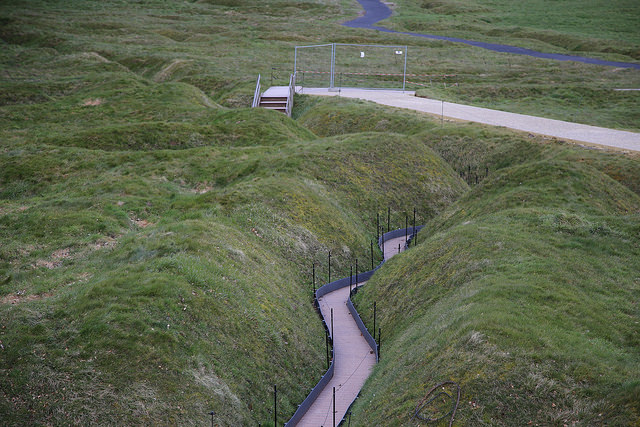 As we climbed the steps up to the Thiepval memorial we could hear an eerie sound. At first it seemed as if slow mournful music was being played in the memorial, but we quickly realized that it was wind blowing through scaffolding that shrouds the memorial, as it is repaired in time for centenery ceremonies on the 1st of July. We stood in the middle of the memorial listening to this melodic ring. As we listened other sounds became clear, birds in the distance, water dripping on the stone, a clanging noise like a bell from somewhere nearby. The next day the sound was joined by the noises of workmen, adding a sound track of the memorial being maintained.
Throughout our visit the weather constantly changed, from bright sunlight to rain, hail and snow. In recording these moments we realized that we were finding what was missing from the letters, the effects of rapidly changing weather on the landscape and the sounds of people in their daily lives. These sensory qualities of the environment will are part of the new work along with readings of the letters, as we try to draw out a sense of care and maintenance of both memory and memorial. The GPS data from our visits to the sites where so many men lost their lives is sonified to produce a form of interference that disrupts the sound of the letters and prevents a clear flow of communication.